Five New York City Millennials escape the Big Apple for a rustic Thanksgiving weekend in the country, but something threatens to shatter their peaceful getaway and they are targeted for murder.
Nicole, Ted, Lorena, Alex and Sebastian are off to party, but upon arriving at their idyllic farmhouse getaway, everything seems perfect as the friends let down their guard with food, drinks and sexy romance. The mood quickly turns sour as Nicole's painful memories begin to encroach and her friends suddenly start to go missing…one-by-one.
As their savagely butchered dead bodies begin to turn up, the race is on for Nicole and her surviving friends to find the unknown killer before it's too late.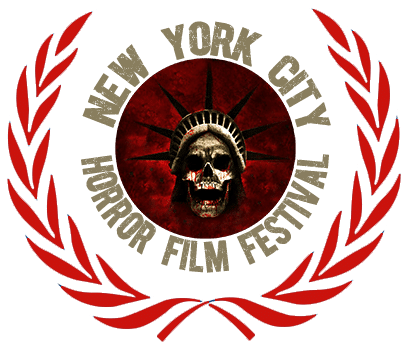 THURSDAY:  11.29.18
10:00PM-12:00AM
CINEPOLIS CHELSEA, NYC
THEATER | SEE TICKET
SPLIT DECISION
Director:  Scott Riopelle
2018 | 15 MIN 
THIRD WHEEL
Director:  Daniel DelPurgatorio
2018 | 4 MIN 
UNINVITED
Director:  Ryan Wagner
2018 | 10 MIN 
CREDITS
Credits
Luciana Faulhaber: Director, producer & cast
Jessica Boucher: Writer
Danielle Killey: Writer
Javier E. Gomez: Producer & cast
Lindsay DiFulvio: Producer & cast
Curtis K. Case: Cast
Hailey Heisick: Cast
Jarrod Robbins: Cast
Jeff Berg: Cast
Director Statement: 
Classic 1980's comedy horror campiness, gore and laugh-out-loud fun, blend in this over-the-top tribute to 1980's cult horror and the grindhouse, masked-killer movie tradition of the era – now re-imagined with sexy, digital edge, for the new millennium.
First-time Latina Director Luciana Faulhaber inserts current events into the traditional horror genre tropes, resulting in a stylized homage to the simpler times of the horror genre where group fun, practical effects and uncomplicated storytelling reigned.
DIRECTOR LUCIANA FAULHABER
Luciana Faulhaber was born and raised in Rio de Janeiro, Brazil. She moved after being awarded and academic scholarship to study biology and research at Fordham University. After graduating top of her class, she continued her studies at Columbia University where she also received a scholarship to pursue a Master's degree in political science.
After a traumatic personal event Luciana decided to change her life, and pursue her calling of performing and filmmaking. Since then, Luciana has studied at the Esper Studios, Lesly Kahn, Labyrinth Theatre Company content Master Class, and UBC training. Luciana then continued to create her first production company World Player's Inc. focusing on Off and Off Off Broadway productions culminating with the highly acclaimed New York premiere production of "The Smell of Popcorn", with her producing partner Javier E. Gomez. Subsequently, they continued to create film content establishing Enuff Productions, and starting with short films such as "Breaking Free", "4-Play" and most recently "December". Luciana not only created the feature film concept of "Don't Look", but together with her producing partner Javier, they developed and produced the entire picture. Luciana also starred and directed the film. Luciana intends to continue creating, producing and directing content.

© 2023. NYC Horror Film Festival.