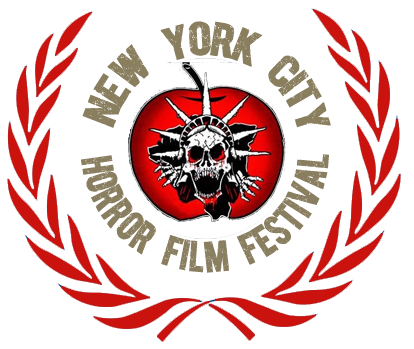 New York City
Horror Film Festival
December 3rd to 9th 2020
to purchase your early VIP pass ($125) and pre-order your single ticket ($23/$17).

We had a great time at the New York City Horror Film Festival! The staff went out of their way to make us feel appreciated and to make our time in New York beyond enjoyable! The audiences were real horror fans!
Lou S.
BEST FEATURE
THE RECKONING
DIRECTOR:  Neil Marshall
BEST SHORT
THE REMNANT
DIRECTOR: Navin Ramaswaran
SCI-FI FEATURE
MEANDER
DIRECTOR:  Mathieu Turi
SCI-FI SHORT
HUMAN TRASH
DIRECTOR:  Aitor Almuedo Esteban
HORROR COMEDY FEATURE
AN IDEAL HOST
DIRECTOR: Robert Woods
HORROR COMEDY SHORT
LIVE FOREVER
DIRECTOR:  Gustav Egerstedt
BEST DIRECTOR
MATHIEU TURI
MOVIE:  Meander
BEST ACTRESS
GAIA WEISS
MOVIE:  Meander
BEST ACTOR
RICHARD HARMON
MOVIE:  The Return
2020 UNPRODUCED SCREENPLAY WINNERS
FEATURE SCRIPT
SALT WEST
WRITER:  Samuel Ripley Peirce
SHORT SCRIPT
CUT IT OUT!
WRITER:  Colton David Coate
America's largest and most recognized genre film festival focusing solely on Horror and Science Fiction. Each year the NYCHFF celebrates both the horror classics we grew up with and the new horror films & filmmakers who created them. the NYCHFF fills the city with special screenings, parties, celebrity guests and free giveaways.
The New York City Horror Film Festival is the Halloween time event not to be missed. So, keep your eyes peeled right here for full festival information, submission info, lineup, tickets, details about all the cool events the NYCHFF does throughout the entire year to support genre films and filmmakers! *The New York City Horror Film Festival is presented by MooDude Film.
LIFETIME ACHIEVEMENT AWARD WINNERS
FILM SUBMISSIONS
NOW CLOSED FOR 2020.  
The NYCHFF is an international film festival and accepts films and screenplays from around the globe. The NYCHFF holds no "completion date" or "world premiere" status regulations.
Deadlines; each year the deadlines are as follows:
Films/Shorts: DEADLINES
Early: March 15th
Regular: June 15th
FINAL: September 1st

It's the perfect horror festival and it's got the perfect NYC attitude (loud, abrasive and unapologetic). And that fits perfectly. They are well organized, welcoming and professional. They treat you like family and show you a good time, but above all, every film and filmmaker is treated with respect. Then when you mix it with that NYC attitude, it equals a fun time with great people that care about horror, the festival and you.
Ryan A.